In an ever growing and ever-changing world, business analysis has emerged as one of the most crucial business practices of the twenty-first century. As an important link between a company's information technology capabilities and its business goals, a skilled business analyst contributes to the profitability of the company in almost every sector.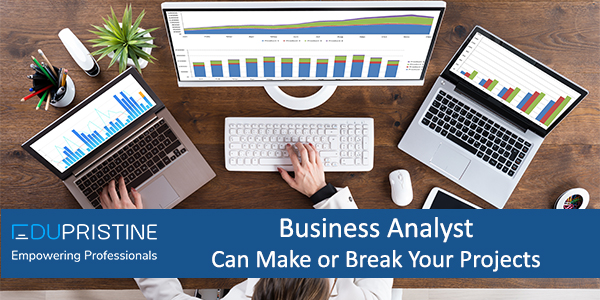 A professional training in business analytics can help you seize the opportunity presented by a rapidly changing marketplace by imparting you with the skill sets required by the organizations to remain competitive.
Role of a Business Analyst:
In today's complex business environment, a company's ability, adaptability and flexibility to incorporate the constant changes in its business through innovation and technology is the key to success. This is where a business analyst comes into picture.
A business analyst is a change facilitator in an organisation; it is his/her job to improve business processes through solutions that are often technological ones. She helps a business achieve its goals through projects by suggesting cost effective and efficient measures through IT solutions and communicating the same to stakeholders, facilitators and partners.
Mapping the needs of a project/program is the core skill of a business analyst role. Gathering the complete requirements of the project, defining, analyzing and documenting the same are the preconditions to developing a solution to the business problem.
Hence, managing requirements in the key role of a business analyst. A business analyst normally takes a lead role in assisting with the business case, planning and monitoring, gathering & organizing requirements, translating and simplifying the same, managing & communicating and analysing the requirements.
Areas of Business Analysis:
Business Development: To identify the organization's business needs and business opportunities
Business Model Analysis: To define the organization's policies and market approaches
Process Design: To standardize the organization's workflows
Systems Analysis: To interpret business rules and needs for technical systems (generally within IT)
The business analyst, sometimes, is a part of the business operation. Â To improve the quality of the services to be deliver, the business analyst works with Information technology. Sometimes used for assisting in Integration and Testing of new solutions.
The business analyst may also support to develop training material for a project, take part in performing the same, and provide post-implementation support. This may involve developing project plans and often needs project management skills.
Business Analyst Deliverables:
The specific job deliverables of a business analyst may differ according to an organization's needs. Some may be limited to IT related projects while the other may be involved in different sectors like finance, accounting, marketing, operations, etc. Following are some of the job deliverables that a business analyst may be involved with:
Business needs like business plan, key performance indicator, project plan, etc
Functional requirements like logical data model, use case scenarios, work instructions, reports, etc
Data Models like data requirements presented as a documented data model of some sort.
Business case, a strategic plan containing shareholders risk and return
Identify multifaceted organizational problems and devise data-driven solutions
Conduct statistical analyses, surveys, training workshops and tests
Recommend changes to processes, personnel or product offerings to make internal departments more efficient
Invent new systems (e.g. stock control) or alter existing ones
Make specific IT recommendations and support their implementation
Qualifications Needed to Become A Business Analyst:
Education and training wants for a business analyst's role may vary according to the industry, specific role and employer. It is possible to enter the field with three years of graduate course and relevant experience but most employers ask for a bachelor's degree.
Some professionals go on to get a master's degree too. To become a successful business analyst, it is important to have the core skills and specialized knowledge. This will further an organization's goals and keep its competitiveness in today's complex world:
Core skills and specialized knowledge:
A graduate degree is compulsory. Post graduate degree is optional.
At least two years of work experience in related field.
Excellent written and verbal communication including technical writing skills
Thorough understanding of systems engineering concepts and statistics
Ability to conduct cost / benefit analysis
Business case development
Modeling techniques and methods
Leadership qualities
Business Analyst Training:
Succeeding at your career as a business analyst takes commitment and proper planning as the job market is volatile and keeps changing very rapidly and unpredictably. It is important for you to prepare yourself in the business analytics to ensure you are a dab hand at the core skills required to become a successful business analyst. Then you can easily break into this field.
There are many institutes that provide the necessary professional training in business analytics some of which are mentioned below:
EduPristine: EduPristine is among one of the well-known institutes that offer business analytics training for professionals as well as students on weekends. They run offline as well as online classes which are conducted by subject matter specialists. Classroom training: 70 hours hands-on training, topic experts for R software, 48 hours of self-paced training on SAS language. Also, 200 hours of access to virtual lab practice in SAS language, 65+ video recordings, study notes, real world case studies and doubt solving sessions by experts. The online training provides 48 hours of live instructor based training in R software, access to 65+ video recordings, study notes, real world case studies, doubt solving by experts and certificate of excellence. For more information on the same please check the EduPristine website.
IIM TalentEdge: This institute provides five months of online interactive training sessions with eminent IIM faculty and industry experts on in-house developed content. The analytical tools used are R and Gelphi. You also receive a certification from IIM Kashipur on the successful completion of the course. For more information on the same please check the IIM Talentedge website.
Great Learning: This institute is a part of the Great Lakes campus. They run India's first mentorship driven analytics program. The institute provides 6 months of the online training program with in-house developed content, recorded videos. Live interactive online sessions with experienced faculty, 48 hours of personal mentorship from analytics industry professionals, hands-on projects in R, etc. To know more about this course, please visit the Great Learning website.