For every query that is typed and searched in Google, there are millions of webpages with potentially relevant information. You must have wondered how Google decides which search results to show you. Well, the answer is that the search journey begins – SEO even before that.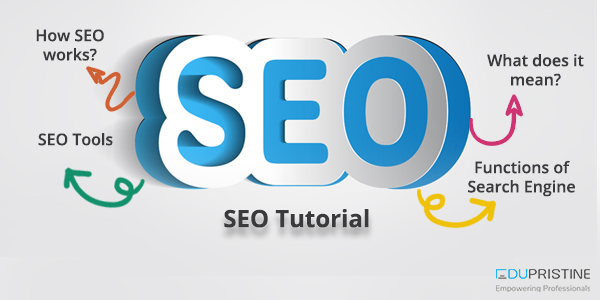 Functions of Search Engine Optimization – SEO

Crawling and Indexing

Even as we are discussing the Google Search Engine, Google is crawling the web using web crawlers to organize the information available on webpages and other publicly available content on the Search index. Before you even type in a search, Google web crawlers crawl across billions of webpages organizing the information in the Search index. The crawling process begins with a list of web addresses from past crawls and sitemaps provided by website owners.

As Google crawlers visit these websites, they use links on those sites to discover other pages. Google offers webmaster tools to give site owners granular choices about how Google crawls their site. The information available on publicly available webpages is discovered by software known as web crawlers much in the similar fashion as you browse through the content on the web. They go from link to link and bring data about those webpages back to Google's servers. When a crawler finds a webpage, the Google systems render the page much as a browser does. They note the key signals from keywords to page freshness and keep a track of them into the Search index.

Search Algorithm

Google ranking systems sort through hundreds of thousands of webpages to give you useful and relevant results in the fraction of seconds. These ranking systems are nothing but a series of algorithms made up to analyze what you are looking for and what results to show you. Here are some of the ways Google uses Search algorithms to return useful information from the web: Analyzing the words of a query to understand it is crucial to return pages with relevant information. Google has built language models to try to understand what string of words should be looked up in the index.

Useful Responses

Google has made a lot of progress in delivering you the most relevant answers, faster and in formats that are most helpful to the type of information you are seeking. Thousands of engineers and scientists are hard at work refining the algorithms and building useful new ways to search.
Search Engine Optimization (SEO) is the practice of increasing the quantity and quality of traffic to your website through organic search engine results.
What does it mean?
Quality of traffic – Quality of traffic means you need to attract right kind of customers who are attracted to your product.
The quantity of traffic – Once you have the right kind of people clicking through from the search engine result pages (SERPs), more traffic is better.
Organic results – Â Ads make up a significant portion of many SERPs. Organic traffic is any traffic that you don't have to pay for.
How SEO works?
Google (or any search engine you're using) has a web crawler that goes out and gathers information about all the content they can find on the Internet. The crawlers bring all that data back to the search engine to build an index. That index is then fed through an algorithm that tries to match all that data with your query.
Thus, we saw the main functions of a search engine. Search engine optimization is about enhancing the functions of the search engine in order to make the search results more relevant and correct. The O part of SEO—optimization—is where the people who write all that content and put it on their sites are guessing that content and those sites up so search engines will be able to understand what they're seeing, and the users who arrive via search will like what they see.
Optimization can take many forms. It's everything from making sure the title tags and meta descriptions are both informative and the right length to pointing internal links at pages you're proud of.
Benefits of SEO: The benefits of SEO are plenty but a few of them are as follows:
One of the major advantages of practicing SEO is that it helps in bringing in more organic traffic. It has been stated by the marketers that around 60% of leads generated by organic traffic are of high quality. Ever wondered why is that? It is because you are providing a solution by being on one of the top results. Ranking on the first page of Google is necessary for the customers to find you. Being on the top can help you in many ways such as it helps your CTR, (Click Through Rate) and helps in attracting the right customers for your business. Being on the front makes it quite clear that a brand is trustworthy and makes it highly visible.
One of the best things about SEO is that it can be done for free. If you wish to hire an SEO expert, then you might have to incur some cost, but it is relatively lower compared to other marketing efforts. Investing in SEO is a long-term benefit but when it is done correctly, it can be the best marketing solution that could be received by your business. It also does provide a continuous return on investments.
One aspect of traditional marketing which can be frustrating at times is that you couldn't measure the return on investment. One cannot find out the exact number of people who stopped the car to watch a particular billboard advertisement. Can we? No right. But while practicing SEO one can jot down all the dots and find out how well your organic leads are getting converted to sales. This activity can be done at the backend of your website and can be tracked. It is not going to be as straightforward as the paid ads. To better optimize it one can make use of Google Search Console to get a better understanding of how customers find your business. It also helps in identifying what you are ranking for and if there is any further scope for improvement.
SEO Tools
How can you work smarter and faster with SEO? It starts with having the right tools.
Here are some of the best free SEO tools on the market—tools with a wide variety of uses and covering a number of common needs. These tools are fast, free, and easy-to-use. I hope you find some you can put to good use today.
Google Pagespeed Insights
Moz Local Listing Score
Keywordtool.io
Google Analytics
Google Webmaster Tools + Bing Webmaster Tools
Open Site Explorer
Google Keyword Planner
Google.com in an incognito window
Google Trends
Quicksprout Website Analyzer
Schema Creator, etc.
To find tutorials on SEO, you can go to the following sites to learn about it
However, none of these tools actually solves problems. They provide you with data – data that needs to be put to use and a solution that needs to be figured out basis that data.
Can then, such a dynamic field where nothing is known for sure then be taught?
It cannot be taught in the form of a tuition or as a set of formulae. No. Those formulae keep getting defunct every 3 months in this industry.
What can be taught, is a way to think and solve the problem for yourself every three months the industry undergoes a change. To know more about the complete Search Engine Optimization syllabus, click here or speak to our counsellors.
Sources: