Key Reasons Why Upskilling is Important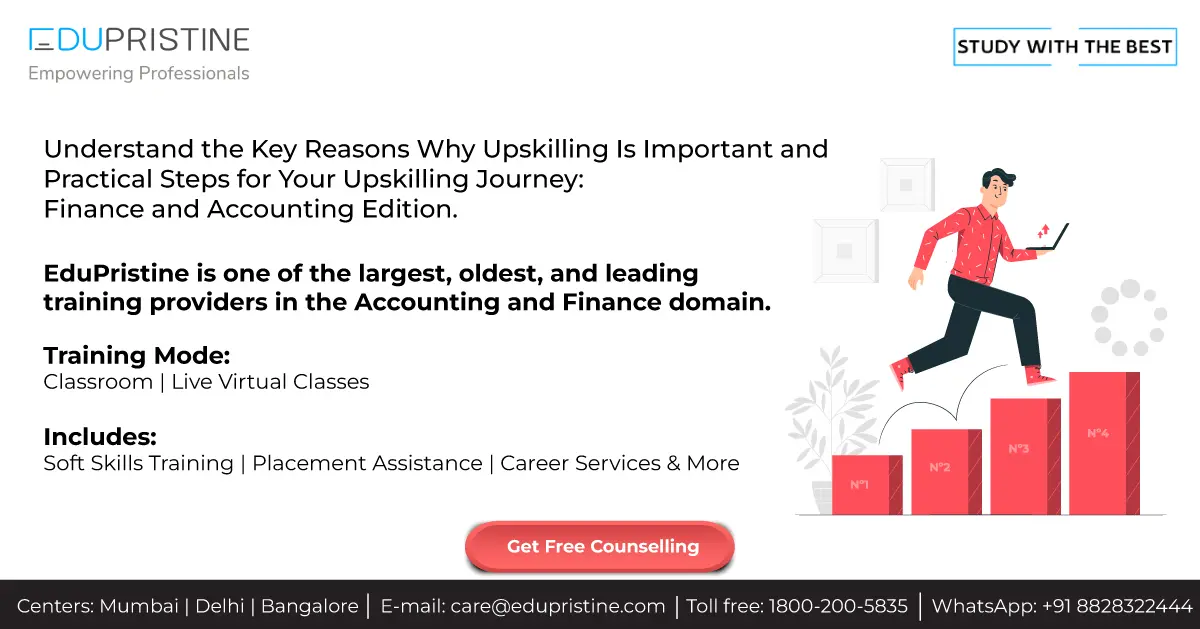 27, Sep 2023
As we navigate the challenging yet exciting journey of studying finance and accounting, we wanted to share some valuable advice that has become increasingly relevant in today's ever-changing job landscape. It's about upskilling, a crucial step in ensuring not just a successful career but also safeguarding our job security in an era where industries evolve at an unprecedented pace.
In our chosen fields, staying competitive is paramount. The financial and accounting sectors are no strangers to technological advancements and automation, which continually reshape job roles. To thrive and excel in this dynamic environment, we must prioritize continuous learning and skill development.
Why is upskilling so important, you ask? Well, let's consider a few key reasons:
Career Prosperity: By investing in upskilling, you not only enhance your career prospects but also open doors to exciting opportunities. Your willingness to learn and adapt sets you apart from the competition.
Job Security: In a world where automation is changing the way industries operate, upskilling is your armor against job displacement. It ensures that you remain indispensable as you evolve with your profession.
Adaptation to Change: Technology and industry standards are constantly evolving. By upskilling, you equip yourself to embrace these changes confidently, staying ahead of the curve.
Increased Responsibility: As you acquire new skills, you become better equipped to take on more significant responsibilities. This not only benefits your career progression but also contributes to your organization's success.
Now look at this from the employer's point of view, you tell us, why will any employer choose someone with limited skills or when there isn't even the slightest hint of a willingness to learn and upskill? As the industry advances, they look for people who can enthusiastically take up responsibility, learn new skills, unlearn, and relearn wherever possible. The perks you receive are a direct result of your consistent efforts and willingness to invest in yourself. After all, everything holds value.
Now that we have discussed why upskilling is important and have viewed the process from the employer's lens, Let's discuss practical steps to start your upskilling journey.
Explore Courses: Investigate specialized courses, workshops, and certifications related to finance and accounting. Many of these resources are conveniently available online, allowing you to enhance your knowledge while managing your academic commitments.
Leverage Online Resources: Take advantage of online platforms and materials designed specifically for finance and accounting enthusiasts. Access educational content, interactive tutorials, and stay updated with the latest industry news all from the comfort of your home.
Seek Mentorship: Connect with experienced professionals in our field who understand the path you're on. They can serve as invaluable mentors, offering insights and guidance as you navigate your journey.
Stay Curious: Nurture your curiosity and cultivate a mindset of perpetual learning. Explore emerging trends, cutting-edge technologies, and best practices that directly relate to finance and accounting. Inquisitiveness is your secret weapon in this ever-evolving industry. In essence, upskilling is the key to staying adaptable, valuable, and ahead in a world where knowledge and skills are continually evolving. It's an investment in yourself and your future, one that will pay off in ways you may not even imagine yet.
At EduPristine, we offer coaching and end-to-end career support for some of the most prestigious courses in the field of accounting (ACCA, US CMA, US CPA, PGP-BAT) and finance (FM, FRM®, CFA®). These courses are prestigious in every sense, providing everything a person might need: global recognition, globally accepted certifications, prestigious designations, handsome salaries, and skills that can help you manage your personal finances We understand that finding good mentors and reliable online resources can be a daunting task. It's not easy to trust just anyone with your career aspirations. That's why we offer free career counseling calls, designed to provide you with peace of mind before embarking on any of our rigorous courses. What does a student need to feel assured that their career is in capable and experienced hands? At our institution, we have a dedicated team of career counselors who can help you navigate your interests and guide you through critical decisions. Our trainers are not only qualified but also bring industry experience and a commitment to support their students during challenging times. Our learning materials are of the highest quality, designed to equip you with the knowledge and skills you need. Additionally, we have an in-house placement department that offers 100% placement assistance. This means we don't just direct and guide you; we also provide support until you reach your career goals. We invite you to not blindly trust our words but to see the results we've achieved over the years. We encourage you to book a free call with our career counsellors, ask any questions you may have, understand the curriculum, and assess if we meet all your aspirational needs. Tell us how we can further assist you on your journey. Let's embark on this upskilling journey together, supporting one another as we become the best versions of ourselves in the world of finance and accounting. Happy learning!
related
blogs