Can vernacular edtech ever become mainstream?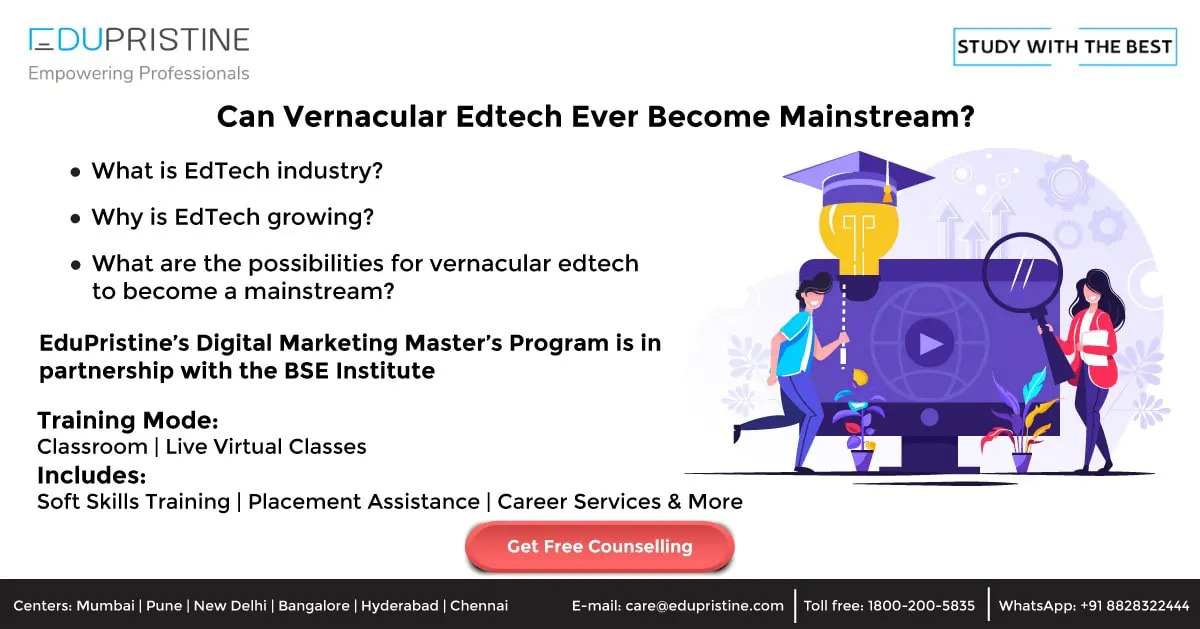 28, Dec 2022
Hey there! Glad to have you back again. Did you know that with the next half billion students coming from rural India, vernacular ed-tech is on a rise? Will vernacular ed-tech become mainstream? Let us quickly find out. In this blog, we will also understand how edtech is adjusting to children coming back to classrooms.
It is believed that the next phase of growth in all the industries will be pioneered by vernacular. A big chunk of the customer base is the core middle class, especially emerging middle-class families in tier 2 and tier 3 cities, where Hinglish and other vernacular languages are spoken. This demographic is also referred to as the next half billion, which consists of nearly 528 million people. Isn't that quite massive? This chunk is soon likely to create a $400 million opportunity. This is because rural India has just 352 million internet users, out of which almost 60% are not actively using the internet.
Vernacular offerings will be a huge success in bridging the divide between India and Bharat, creating a massive opportunity for start-ups addressing this target group. In the last two years, the learning gap has also widened in India. With that being said, as the next half billion is expected to come from rural India, it will also come with its own sets of challenges, such as accessibility and internet connectivity. Electricity is another major concern that still exists in rural India.
One of the biggest challenges apart from bandwidth is establishing a brand for each state. The entire market cannot be considered as one as each state is a different market on its own. The vernacular market is on everyone's radar currently and is a very big opportunity. 90% of India does not speak English, having more than 55 languages in India with one million speakers each.
Acquiring students is also becoming costlier in many ways. The ed-tech sector does not seem to be on track to match the heights of the previous year, given the current year's pace of funding. It is not the end of the Ed-tech space in any manner. Ed-tech start-ups always had huge ambitions and a lot of fuel in the last two years, as even giants are scrambling for stability.
From September 2020 to June 2022, the ed-tech sector minted as many as six unicorns, such as Unacademy, Eruditus, UpGrad, Vedantu, Lead school, and PhysicsWallah. Before these two years, India only had one unicorn, which was Byju's. It is seen that apart from valuation, even funding picked up greatly. To learn about valuation in-depth, you can enroll in the FRM course. The ed-tech sector, however, does not seem to be on track considering the current scenario. Amid the boom seen in the last two years, uncertainties such as lack of profitability and heavy acquisition costs are a few of the reasons behind the slowdown.
Let us deep dive and understand what's changing.
From research, it has been found that nearly one-third of online learners believe that virtual learning does not substitute for traditional learning due to a lack of interaction with instructors and peers.
Low completion rates of online professional courses due to lack of feedback and interactions further underline the need for having multiple models.
There is no doubt that in-person education or physical classes have their perks. Students learn discipline, become competitive with their peers, develop social skills, and build student-teacher relationships.
Online education, on the other hand, also has its benefits such as time-saving, convenience, bridging the geographical student-teacher gap, etc.
The Ed-tech start-ups have now started seeing a decline in funding and subscription levels because of a decline in demand for online education. The Ed-tech space has breached $3.5 billion in market size, yet it is going through a rough patch with growth-stage capital drying up, which is why firms are forced to either shut down or cut back on jobs. This is encouraging the start-ups to change their current strategies.
Vedantu plans to open physical centers while maintaining the virtual approach. Byju's is soon planning to invest another $200 million to open brick-and-mortar tuition centers for school children. By early next year, it also plans to launch 500 centers in 200 cities. Unacademy also announced its foray into offline learning through its new centers. UpGrad, which is expanding its global presence, is also pushing the need for physical counselling centers for parents and students for understanding its offerings. Like Aakash institute, these centers will combine physical and digital presence. Brick and mortar colleges too are adding value-added services online, which is gaining a lot of prominence.
Thus, apart from the client acquisition perspective, having an offline presence can assist brands to develop trust among low to middle-income parents who might have seen TV commercials or online marketing but are hesitant to invest in a digital-only mode of instruction.
Upskilling is the need of the hour. Upskilling improves the skills of the existing employees as well. EduPristine provides flexible modes of training such as classroom training as well as live virtual training, which is interactive.
If you plan to upskill, you can feel free to visit our website or get in touch with our counsellors. EduPristine provides professional courses such as theACCA course, CPA course, CMA course, and PGP-BAT course in the accounting domain. For finance professionals, it offers theCFA course, financial modeling course, and FRM course. For all marketing enthusiasts, it offers a digital marketing course. All the best and happy learning!
related
blogs